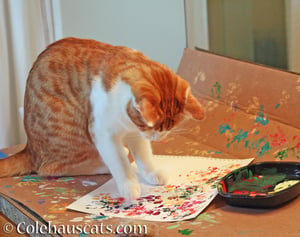 $

20.00
Thank you for your response and purchases of Quint's artwork. We apologize for selling out so quickly or if you didn't see something you liked. Like many artists, Quint is most inspired by seasonal changes. After painting more than usual this summer, he is on break until our seasons shift toward fall, usually late September/early October. He'll let us know when he is ready to create more garden-inspired works and will be thrilled knowing you might like them.
Look for the release of his new series coming this autumn.
Every sale of Quint's art is used to benefit cats in need of food, help and medical care.
Thank you again for visiting and thank you for allowing Quint to continue his passion for painting. He thanks you for helping him help others by purchasing from his art shop!